Private landlords get £9.3bn in housing benefit from taxpayer, says report
Amount is nearly double what was paid 10 years ago according to National Housing Federation study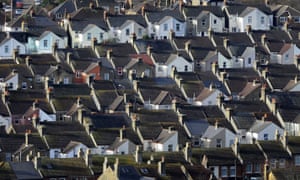 Taxpayers handed over £9.3bn in housing benefit to Britain's private landlords last year, nearly double the amount paid 10 years ago, according to a new report.
The number of households receiving housing benefit to pay rent to private landlords has risen 42% since 2008, the National
Housing
Federation, which represents the non-profit housing sector, has found.
The NHF calculated that if all those housed in the private rented sector lived in affordable housing, taxpayers would save £1.5bn a year. David Orr, the federation's chief executive, said: "It is madness to spend £9bn of taxpayers' money lining the pockets of private landlords, rather than investing in affordable homes.
"Housing associations want to build the homes the nation needs. By loosening restrictions on existing funding, the government can free up housing associations to build more affordable housing at better value to the taxpayer and directly address the housing crisis."
The number of housing benefit recipients in the private rented sector has risen from just over a million in 2008 to almost 1.5 million in February this year.
Housing benefit
is paid to households that cannot afford to meet their rental costs and have enough left over for essentials such as food, clothes, heating and lighting. Almost half the households in the private rented sector that receive housing benefit are in work, but not earning enough to cover the rent and living expenses.
In a sign of how pay has failed to keep pace with the cost of living, in 2008 only a quarter of the private renters in receipt of housing benefit were in work.
According to the NHF's research, housing benefit claims in the private rented sector are much higher than in the non-profit housing sector, with on average about £1,000 extra being spent to keep roofs over the heads of private renters – rising to £3,300 a year in London.
Since the beginning of the financial crisis in 2008, the proportion of housing benefit recipients paying private rents has risen from one in four, to almost one in three.
The NHF also noted a rise in the proportion of middle-income households forced to turn to the benefits system. "Specifically, the strongest increase in housing benefit claimants has been among households with net incomes between £20,000 and £28,000 per year, rising from 11% in 2008/09 to 19% in 2014/15," the report stated.
A government spokesman said it had taken action to reduce the private rental sector housing benefit bill. "The reality is we have taken action to bring the housing benefit bill under control, and since 2012 the amount going to private sector landlords has actually been falling – something which the National Housing Federation fails to recognise," he said.